Google Chrome has really evolved to become an operating system. Why? Now you can play Angry Birds on the web browser!
After Google's demo of the web-based version of the game on Wednesday's I/O conference, Angry Birds was launched in the Chrome Web Store. Angry Birds is currently a free demo that can be installed in the browser of your Mac or Windows computer.
The game runs very well. Adapting to the mouse-based version is very easy, especially when using a multi-touch trackpad. In most cases, a click is the equivalent of a single touch. To shoot the birds, hold down the trackpad button, and fire away.
There are only two levels, first and second, which are available on other platforms. The second level is made specifically for Chrome, and has Chrome's logo throughout the animation.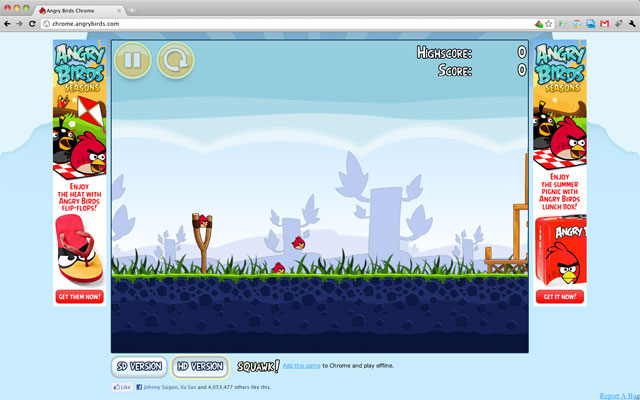 The HD version is awesome, and there are only minor hiccups while playing. I was also able to perform several tasks within the Chrome browser, without crashes; and was ready to go when I came back to it's tab (if you are playing on a MacBook Pro, it could get really hot while you playing).
Even if you have already downloaded Angry Birds in one of the many platforms which are available, it is a fun experience to play within the browser. All online games are not new, the platform has clearly evolved to attract developers who want to make games that use complex graphics and strong movements.
If you haven't installed Angry Birds in your Google Chrome browser, head over to the web store and give it a try. Don't blame me if you get addicted!