Apple can't afford to rest on its laurels for a second at this point…not with so many challengers nipping at its heels for a share of the coveted tablet and smart phone markets. Granted, it's highly unlikely that even a mediocre release will push hardcore MacHeads into the arms of Android. Still, the latest iPhone release is key to Apple's long-term success. We might not be sure of exactly what will show up when the iPhone 5 arrives, but we've got a solid idea. Here's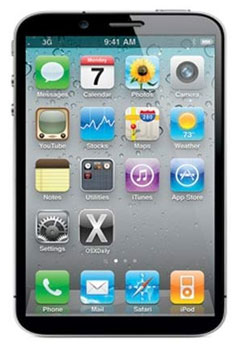 what you can probably look forward to in the coming iPhone 5.
Sexy New Hardware
At this point, it's a lock that the new iPhone 5 will have the dual-core, 1.2 GHz A5 ARM CPU now inside the iPad 2. It's a logical move for Apple, as the A5 provides the kind of muscle many have come to expect in a mobile device. If you like iOS now, you'll like it more with A5 running the show. Despite the lack of Flash, the web-browsing experience afforded by that kind of computing power will be faster, slicker, and more responsive than you thought possible. In addition, the iPhone 5 will most likely boast an 8 Megapixel camera that provides damn-near SLR-level picture quality.
Software Goodies
The iOS platform, a variant of Mac OS X, has performed admirably over the last few years and has set the standard for user experience in a mobile device. Things are looking to get more slick with the release of the iPhone 5. The boys and girls from Cupertino are as always tight-lipped when it comes to what we can expect, but the smart money says we're in for some surprises. Apple's own web page about the coming iOS 5 is cryptic at best, but they promise over 200 new features in a total overhaul of the standard iOS platform.
Aesthetics
True to their reputation as masters of showmanship, Apple can always be counted on not to tip their hand before the time is right. Unless a demo phone gets away from them by accident, of course. But the word on the street is that the iPhone 5 will feature a radical new design that is sure to turn heads once it's released. They can't make the thing any slimmer, so this one's a real mystery. Perhaps they'll introduce a Swiss Army Knife that pops out the mini-USB port. As we near the release date, which may be as soon as September, one can only guess. But here's a hint: curved glass on a 3.7", edge-to-edge display. Pretty sweet, right?
In Conclusion…
Apple's great at keeping the rumor mill spinning at full speed. It's not that the company relies entirely on marketing to move their wares; it's more that they know how to put on a good show. They understand that presentation is everything, and that having what is quite possibly the best product on the market is everything else. Apple doesn't play it as close to the vest as they've done with the iPhone 5 unless they've really got something. Unfortunately, we're just going to have to wait it out to see what they've got. But if history is any guide, get ready for some fireworks when the iPhone 5 drops this fall.
Jessica Bosari writes about gadets and technology for Technology-Colleges.info. The site helps students find the best schools for computer forensics careers and other computer science fields.