Beyond Bare Hawaii
Mae (Beyond Bare Hawaii owner) was frustrated and getting nowhere with her business goals, the needs of creating an image and brand identity for her growing business. She had been using an mainland affordable online web service, and was having difficulties with her graphic designer. Her's mainland web design company was not able to provide her with the design of a professional looking website or adequate customer service. Mae's graphic designer was also not returning her calls or able to produce a logo that best suit her company. So, Mae started looking for a Hawaii Web Designer, and soon enough she heard of Onyx Solution.
After a few phone calls and emails with Mae to discuss the vision of her company, We provided three sample logos for Mae to help her get a better idea of what exactly she had envisioned in her mind. After a few tweaks, We were able to design a logo that Mae was very happy with , to follow with website redesign, business cards, flyers and gift certificates
Logo & Print Media
With the new Beyond Bare Hawaii logo, she was now ready to move forward with marketing her company. I'm not only a Hawaii Web Designer, but a talented graphic artist, so Mae didn't have to go through the hassle of searching many companies for her media needs. I was then able to use the logo and Mae's ideas from our initial discussions, to create beautiful print media such as business cards for Mae and her staff, brochures, and gift certificates.
Web Design & Development
In this day and age, it's a necessity to have a professional looking website. Mae had a generic looking website that she created through the before mentioned mainland online web company, yet it was still missing something. Mae and I worked closely together to come up with a clean looking site with her own personal touches and web functions vital for her business:
Rotating Pictures
Point-and-Click Online Reservations
Waxing Services
Blog
Contact Page & Directions
It took a couple tries and continuous communication, but we made certain that Mae was completely happy with the final product.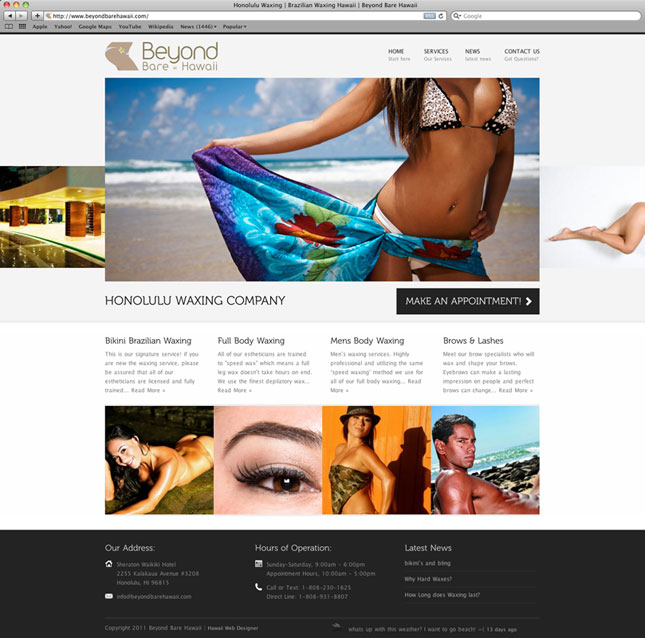 Beyond Bare Hawaii – Testimonial
I highly recommend Marcos Nobre for your design needs! I had a huge deadline and needed to create a logo and advertisement for my business, and he came through with a design that I absolutely loved. He even finished before the deadline! I originally spoke with another designer, but after waiting 3 weeks with no response, I finally gave up and fortunately was referred to Marcos.

The hardest thing about hiring someone to create your business is to communicate your ideas to a visual design. There was no need to meet and sketch out what I envisioned. It may have helped, but we did it, just by sending a few emails and phone calls. It saved me a lot of time and stress. The great thing about Marcos is that not only are his designs awesome, but he sticks with the project, until you are absolutely satisfied.

This testimonial was unsolicited by the way, I was just so impressed by his design skills and energy, that I hope you choose to use his services!

Aloha,

Mae Mamiya
Owner, Beyond Bare Hawaii